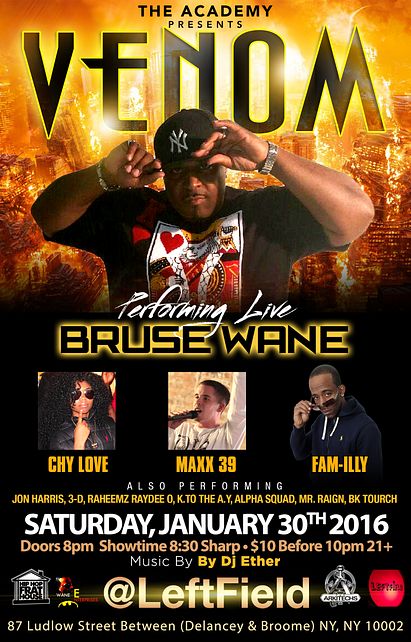 Tickets On Sale Now: Bruse Wane Live At The Venom Concert In NYC
Wane Enterprises Bruse Wane will be touching down Jan. 30th in NYC for the Venom Concert. Known for working with Hip Hop titans Sean Price, Styles-P, Chris Rivers & Keith Murray.  He will performing his head Bangers "Beast Inside" "Hercules", BAM BAM", Venom and more. Get your advance tickets at the link for this exclusive event.. Tickets.
 Check out one of his recent performances and some of his premiere songs below:
Bruse Wane Live at the West End, NY, USA
Bruse Wane Featuring  Sean Pice "Beast Inside"
Bruse Wane Featuring Sean Price & Chris Rivers "Venom"
Bruse Wane Feat Keith Murray " Return Of The Spitters" 


Bruse Wane - Featuring Sista Nancy - BAM BAM
 Bruse Wane - Hercules